In the earthquake of February 6, 2023, which affected many of our provinces, the houses of the earthquake victims were destroyed or became too dangerous to return to their homes. A lot of help and support was provided from our country and many parts of the world, in this article we have discussed the designs and functions of RHU houses and Kazakh dormitories.
Better Shelter Relief Housing Unit (RHU)
The Ikea Foundation has donated 10 million euros worth of earthquake relief aid to Turkey and Syria. 5,000 RHUs are part of this support. What are these RHUs for people who lost their homes and were evacuated after the earthquakes in Turkey and Syria on February 6, 2023? Better Shelter, a Swedish-based non-profit organization founded in 2010, has designed a shelter that is packaged in a flat box, modular, takes up little space, and can be set up by volunteers in a matter of hours. They have already tried the prototypes in Iraq and have also helped people who have been separated from their homes and lost their homes in more than 70 countries with these designs.
The installation of one of them takes place in two boxes, we can think of it as half-and-half. The weight of the boxes is also important here, if the material is too heavy it is not easy to set up. One box can be carried by two people and there is enough shelter for five people. It has walls, a roof, a lockable door, solar-powered lights and charging facilities.
Being lockable also makes people feel more comfortable and safe. According to Better Shelter, they are much stronger than concrete buildings, and because of their lightweight material, they cannot be demolished. The organization says Turkey and Syria need at least 28,000 more of these easy-to-build houses.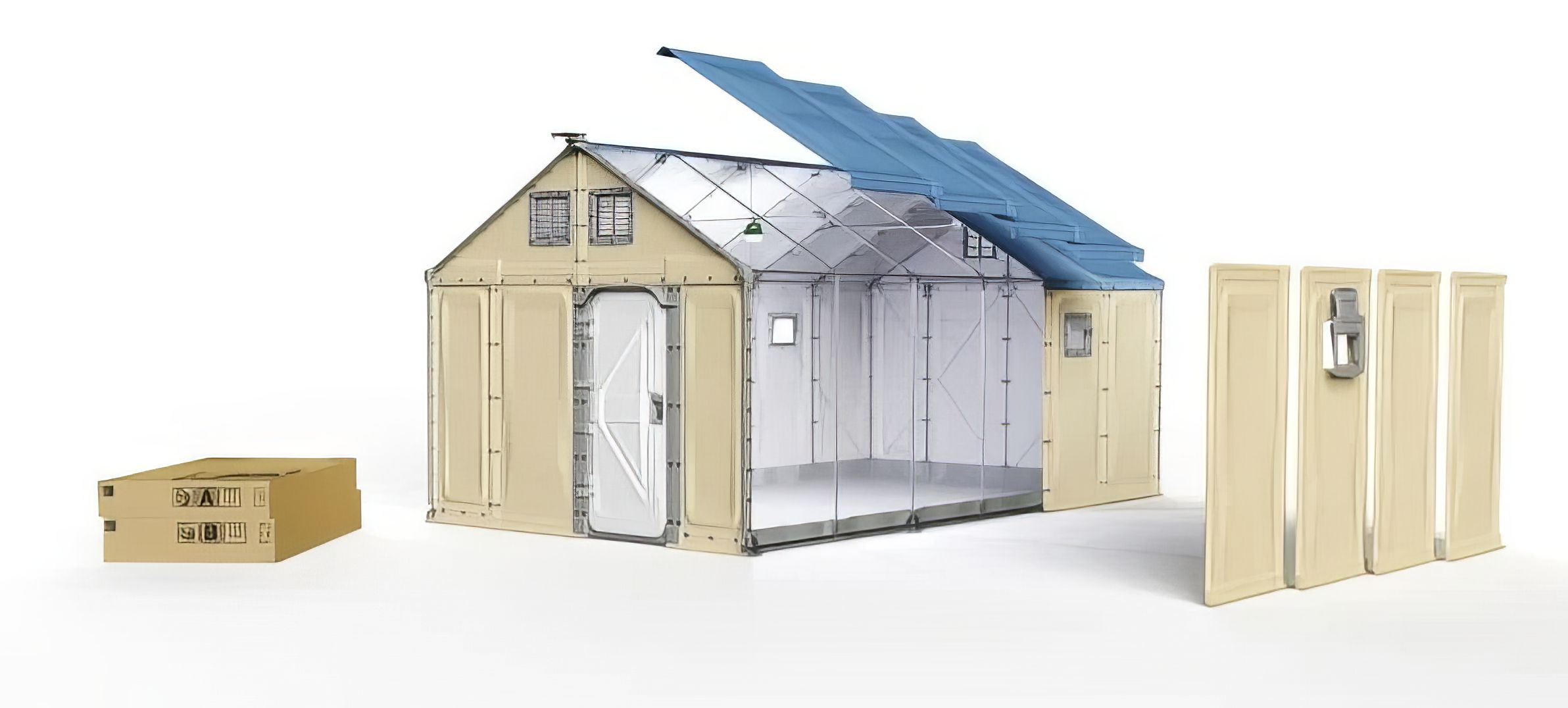 Kazakh Dormitories
Kazakhstan has sent 'yurt' tents for earthquake victims. Yurts, or ger, are tents used by nomadic communities in Central Asia. These tents are not only used for shelter but also for their cultural role and historical traditions, but here we will briefly examine their design and function. Felt yurt tents are divided into 2 types Kyrgyz and Kazakh type. The differences between them are the height of the ceiling, the presence or absence of poles and the size of the wall bottom. We have also discussed the characteristics of the 'Kiyiz Üy' tents found in Kökşetav, Kazakhstan.
The outer surface is made of leather, felt or goat wool and the inner frame is usually made of willow wood. Wood and felt/leather are the two main materials of this structure. In addition, the door made of wood is on the inside, while the door made of felt is on the outside. Pine wood is used to make doors, because pine wood is smoother when cleaned and can be embroidered on. These tents are long-lasting as no metal, nails or similar things are used in their construction.
They are still in use today because of their ability to keep the inside cool in summer and warm in winter. It has a structure that heats up very quickly inside, the stove/fire is located right in the center of the tent so that the smoke can escape from the tent. Thus, every part of the tent heats up and the smoke does not suffocate the tent. Depending on its size, it can accommodate 2-10 people.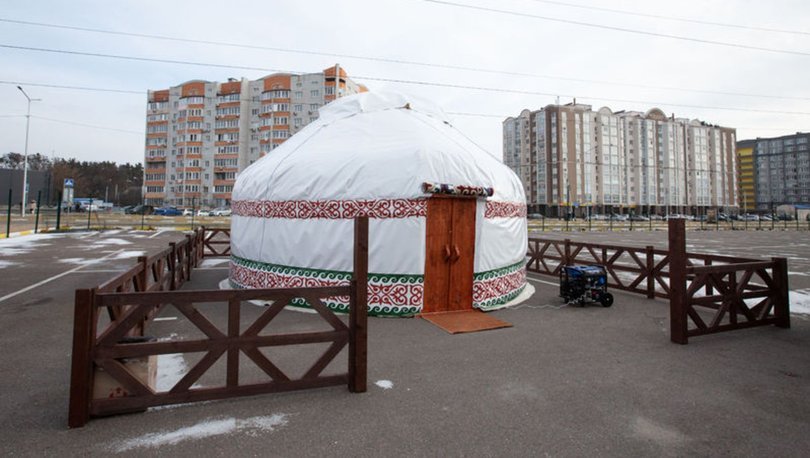 The wooden parts of Kiyiz Üy tents are classified as Kerege (walls), Uvık (roof connections), Şañırak (circular part holding the ceiling) and Sıkırlavuk (wooden door).
The felt parts are divided into Tuvırlık, Üzik, Tündik and Kiyiz Esik (felt door). This felt door prevents insects and snakes from entering inside. In addition, 8 types of tying methods are used for installation.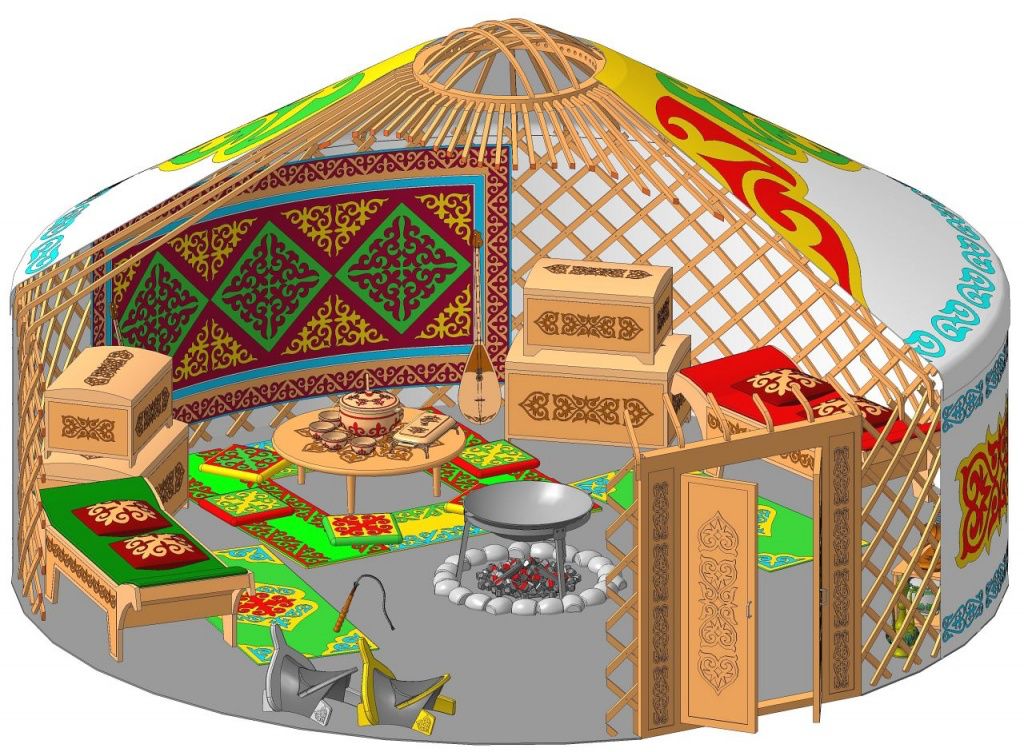 The inner skeleton of the tent, the roof, the door and the exterior of the tent are not easy to install, and Kazakhstan sent a team of 12 experts for the installation while sending this aid. We can observe that this tent design, which emerged from the nomadic life style, is useful in such situations with its quick setup, quick assembly and portability.
Get well soon to all our earthquake victims.
   
        [How Ikea is helping this nonprofit transport 5,000 emergency shelters to Turkey](https://www.fastcompany.com/90850141/ikea-helping-nonprofit-transport-5000-emergency-shelters-to-turkey)

        [Better Shelter- Ikea](https://bettershelter.org/ikea-foundation-and-better-shelter-partner-to-bring-relief-in-turkiye-and-syria/)
        
        [Better Shelter- Shelters](https://bettershelter.org/shelter-effects/)
        
        [Kazakh compatriots pitch tents for earthquake victims](https://www.ensonhaber.com/gundem/kazak-soydaslardan-depremzedeler-icin-yurt-cadir)
        
        [FELT TENTS OF THE KÖKŞETAV REGION (KİYİZ ÜYLER)](https://www.sosyalarastirmalar.com/articles/felt-tents-kyz-yler-in-koksetav-region.pdf)
        
        [Otağ, which was built with tents, became the 'dormitory' of earthquake victims](https://www.youtube.com/watch?v=xV92cMZ5Ccs)
        
        [Felt Yurt Tents (Yurt-Ger-Boz Üy)](https://www.kaganlikdogaekipmanlari.com/ke%C3%A7e-yurt-%C3%A7ad%C4%B1rlar%C4%B1-yurt-ger-boz-%C3%BCy)
        
        [Kazakh yurts: importance in nomadic lifestyle, history and structure](https://weproject.media/en/articles/detail/kazakh-yurts-importance-in-nomadic-lifestyle-history-and-structure/)